At Tuscan Hall Venue & Catering, we use premium ingredients in our menus.
We have an amazing selection of quality choices to fit any taste.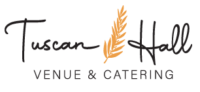 Always Delicious. Always Homemade.
Our catering comes to you directly from the kitchen Tuscan Hall Venue & Catering. Since the re-opening of Tuscan Hall, our guests and clients have raved over the delicious homemade cuisine and have often asked us how we can bring these delicious dishes to your tables at home, at work, or to any event that may be held outside of the venue.
We are at the forefront of hospitality, cuisine, design, residences, and entertainment, our lifestyle moments are forged with highly-curated and passionate service. We are committed to authenticity, sophistication, mastery and innovation.
Make an impression on your guests with our premier cuisine.