Your Very Own Love Story
Begin your very own love story with Tuscan Hall. It all starts with the first dance.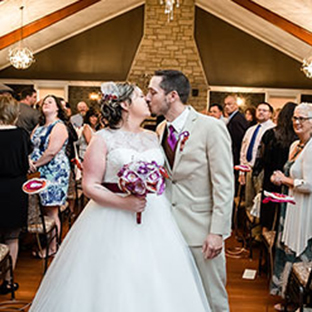 WE HAD A FANTASTIC EVENING AT TUSCAN HALL.
We planned the wedding, mostly with Amy, but also met with Nicko. Amy made sure that we were happy and taken care of. When I brought up concerns about hall set up or access, they accomodated us and we were beyond thrilled. Our guests were impressed with the hall, which is beautiful and recently remodeled. The food was delicious and plenty. No one left hungry. The late night pizzas were a nice touch. We utilized the stage for a live band, and it was one of the best parties I've ever been to. The sound system and acoustics were excellent. I would recommend them again for a party in the future. We've also attended other events at Tuscan Hall. They hold wine tasting and Paint Nites which are a lot of fun! The value of this venue is way beyond other halls that we looked in to. Do not pass them up when planning your wedding and holding it in the Waukesha area. It's beautiful and well worth your time!

WE WERE SO BLESSED TO COME ACROSS TUSCAN HALL WHEN WE DID!!
We unfortunately had TWO other venues fall through on us and we were in a serious pinch. We met Amy, the halls event coordinator, at the wedding expo at the state fair and immediately hit it off. We ended up standing around and talking about everything but weddings for quite some time. But anyway, this was the perfect venue for us. My husband and I both had a lot of out of town guests so having a space that we could do both the ceremony and reception at was great. Working with Amy, Nikko and Karina was fantastic. From day one, they told us welcome to the family, and family is exactly what it felt like. Even on the day of our wedding while Amy was out of town for another family event, she was checking in on us. The space itself is gorgeous, there are so many budget friendly options to choose from when putting it all together, and the entire staff was so welcoming and kind. There was not a single guest that left at the end of the night that said anything other than how beautiful the entire day was. And we couldn't agree with them more. Tuscan Hall is really an amazing place and we are so happy we got to start our forever there!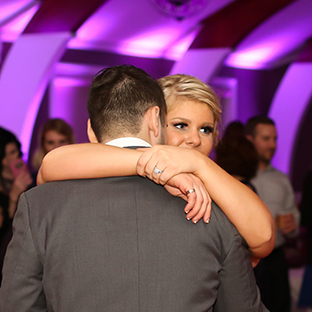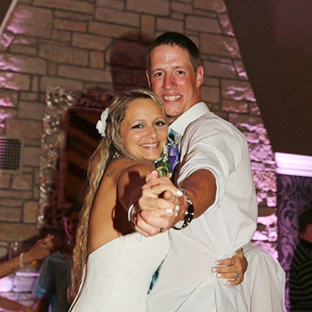 THE TUSCAN BANQUET HALL HAS THE BEST BACKDROPS TO MAKE YPUR SPECIAL DAY EXTRA SPECIAL!
No extra decorating is required because the hall is just so beautifully decorated already. The staff is amazing and will help you put together whatever vision you have for your event, even if it means creating a custom menu for your wedding. The prices are affordable to almost every budget and the quality wasn't suffered anywhere. The event manager Amy was with us every step of the way and always let us know all our options and was there to help with anything we needed. Amy and her business partner Nicko are quite possibly the best people to plan an event with. The food was amazing and everyone at our wedding commented on how amazing everything tasted, how unique the menu was and that the bartenders were great conversationalists and excellent at making drinks! Tuscan Banquet Hall is hands down a hidden jem of Waukesha. You will be so glad that you booked your wedding with them.

MY HUSBAND AND I HAD OUR WEDDING RECEPTION HERE.
Tuscan Hall was the ideal venue for our special day! Our wedding reception was everything we hoped that it would be. We rented the smaller hall "Wine Cellar" at Tuscan hall for our cocktail hour and had dinner and dancing in the main hall. Our dinner, served family style, was delicious. We received many compliments from guests impressed by the delicious food and beauty of the venue. Wedding Coordinator, Amy, was extremely helpful, organized and committed to making our wedding visions a reality. In addition, the hall has ample space for dancing, and the large bar is ideal for socializing. We loved everything about our wedding and we didn't have to exceed our budget to have the wedding of our dreams at Tuscan Hall.
I cannot possible say enough good things about this venue and the staff. From the first time we met with Amy (a year and a half before our wedding), up through the wedding day, the entire staff was phenomenal. Any little request I had, they were more than accommodating. Amy was always quick to respond with any question I had. And on top of it, they are constantly making improvements to the venue (love the newly added light fixtures, they added even more elegance to the place). We had our rehearsal, ceremony, and reception here on 10/1/16 and having everything at one place made the whole process that much easier to plan.

read more…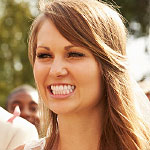 "Weddings are beautiful, memorable, and at times very stressful. Tuscan Hall's unbelievable service took all the stress and anxiety away from my special day. My fiance and I booked with Tuscan Hall two years before our wedding date. We fell instantly in love with the beautiful hall and there wonderful staff Nicko and Amy. As our date quickly approached, Amy our event coordinator was there to answer any and all questions and reassure us that everything would be beautiful. Amy was incredibly helpful with listening to all of my family's concerns and did her very best to accommodate all of our constantly changing requests."

read more…