Always Delicious. Always Homemade.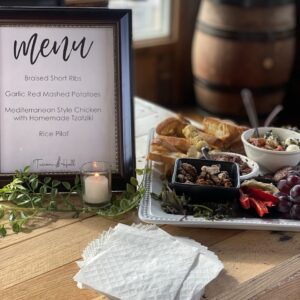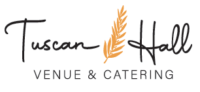 Tuscan Hall Venue & Catering is an award-winning, full-service event caterer that can be hired for any occasion.
Our lifestyle moments are forged with highly-curated and passionate service; keeping us at the forefront of hospitality, cuisine, design, residences, and entertainment.
Make an impression on your guests with our premier cuisine & menu options.
We specialize in weddings, corporate events, sports banquets, non-profit events, fundraisers, and more.
Multiple options are offered to customize our food and beverage event packages to make your event exceptional.
Click the images below to view our specialized event menus.
Our delectable eats have our Guests & Clients Raving!
Wonderful Wedding

Tuscan Banquet hall has a very agreeable staff, a beautiful set-up, and delicious food. My wedding guests have said, and I quote, "the food was FIRE"- Meaning the food was fantastic. haha. The hall itself is very beautiful that even with the few decorations I put up for my wedding my wedding still looked classic and extravagant. Amy was wonderful to work with, very happy with how everything turned out.
I can't even begin to say how happy we were booking with Tuscan Hall. The food and rental are very reasonably priced and the package options are great. We ended up adding a ceremony on later and we were even able to have it outside. Everyone LOVED the food. I even had one of my guests tell me that it was the best wedding food that they have ever had. Amy is absolutely fabulous and I cannot thank her enough for everything she helped us with. She was great at getting back to us with answers to all of our questions and is an invaluable resource for setting up and making sure things run smoothly day-of. She has great ideas and suggestions to make sure you're happy with everything. The rest of the staff that we had for the event were hands-down amazing as well. 11/10. 5 stars. We would recommend Tuscan Hall to anyone looking for an event venue. There is 100% a reason they're voted "Best Of" so many times.
Outstanding Meal

Tuscan Hall exceeded all of our expectations for off site catering at our wedding in Wales, WI. The food was delicious, and we had guests telling us this was the best wedding food and service they've ever had. We had no hiccups from beginning to end working with Amy, and her team on the day of worked quickly and professionally to feed a plated meal to our 200+ guests. We would hire them again in a heartbeat!!!
Amazing Caterer!

Tuscan Hall did off-site catering for our wedding and I couldn't be happier! The staff was extremely professional and everything went so smoothly the day of our wedding. Also, the food is so so delicious!!!! I got so many compliments from guests on how yummy the appetizers and meal were. We loved working with Amy throughout the planning process! I would definitely recommend them!
2021 Wedding

Tuscan Hall was a beautiful venue to get married and we were so pleased with how everything looked and was handled the day of! Amy was able to answer any questions we had in a timely manner. All the staff was so easy to work with and very professional. Everyone couldn't stop raving about the food and even how great the bartenders were! I would definitely recommend getting married here!
Tuscan Hall Catering: Say YES!

Tuscan Hall was amazing! The day of our wedding, I didn't even worry about a single thing when it came to their catering. Food was excellent, many compliments from our guest as well and the servers were very professional. Highly recommend!
Amazing Venue with Exception Staff and Overall Dining Experience

We got married here in early November of '21 and loved this venue! The food was exceptional and very well catered (buffet style for us)! Staff was friendly and met everyone's needs. We were asked by the catering staff if we needed anything, and they sure delivered! It felt great being pampered and stress free for the day of wedding. Our guests provided nothing but compliments regarding the venue. Amy deserves a round of applause for her professionalism — seriously, an amazing person! She had great suggestions on her preferred vendors: Double Platinum DJ and Jess Fleur florists and decor. I would highly recommend going with Tuscan Hall for anyone with a party size up to 170 guests. We had about 150 guests and it was the perfect fit for us. We had plenty of space for our photo booth, a nice size dancing area, and table setup up for deserts.